HHIS Accomplished Alumni
As a Honoka'a  high school student, Jacy James Anderson, son of Art teacher Lisa Anderson,  performed professionally at venues across Hawaii island with his reggae-rock group, Nonami, and classic rock group, Evolution.
Jacy was a member of the Honokaa High Jazz and Ensemble Band and the 2011 Grammy Award-winning class. Anderson credits his teacher, Gary Washburn, as his inspiration for pursuing a career in music" (West Hawaii Today, 2021).  He played lead saxophone and guitar for both the Jazz and Ensemble bands.
After high school in 2012, Jacy moved to Boston where he attended Berklee College of Music.  Graduated from Berklee College of Music in 2016.  Currently, Jacy works as a web developer and he  continues to perform, write and record music in Denver. Jacy released his first album, Blackout Poetry, in Novemeber of 2020. It can be found on Spotify.
Lexi Dalmacio, daughter of head custodian Elisa Deluz-Dalmacio, is a former Honoka'a High student and valedictorian of her graduating class in 2016. Miss Dalmacio went on to further her studies at University of Hawaii, Hilo, earning a Bachelor of Business Administration in Economics & Subject Certificate in Finance. She later attended Vanderbilt University in Nashville Tennessee and earned a Masters of Science in Finance, in 2021. Congratulations Lexi!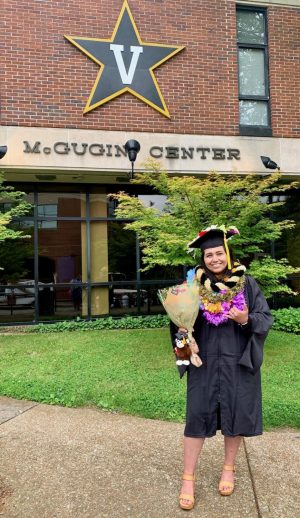 Lexi Cora Dalmacio Graduating with her Master's in Science in Finance, Vanderbilt University, Nashville TN