Summer Reads
The 57 Bus by Dashka Slater
With summer right around the corner, the Journalism Club would like to share a couple of amazing books that you should definitely consider reading over the break. Enjoy! 
The 57 Bus, a non-fiction and emotionally captivating story about two teenagers and a crime that drastically changes their lives takes place in Oakland, California. This novel explores several serious and significant themes: gender, sexuality, adolescent crime, accountability, and forgiveness.  
Luke "Sasha" Fleischman is an 18-year-old, white teenager raised by loving, supportive parents, who went to a private school and grew up in the liberal, middle-class foothills of Berkeley, California. Sasha, who goes by the pronoun "they" is an introvert and very intelligent. They love all things Russian and are fond of languages and even with their Asperger's condition, Sasha developed meaningful friendships. Although Sasha's life may seem close to perfect, they have always struggled with gender and sexuality. They didn't believe that gender should be determined at birth and were opposed to the idea of there being only two genders: male and female. Sasha felt as if they didn't belong to either of them; "Discovering the existence of genderqueer identity felt like discovering a secret room. All this time, there had been just two rooms: male and female. Now it turned out there was another room- one that could be furnished however you wanted." When Sasha came out as agender (neither he nor she), they finally felt they had uncovered who they truly were. Little did they know, Sasha would soon face a harsh hate crime.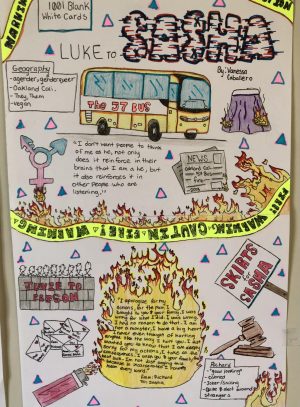 Richard Thomas is a 16-year-old African-American male.  Contrary to Saha's upbringing, Richard comes from separated parents. He was raised in the crime-plagued flatlands of the city and attended Oakland High School. Richard was constantly surrounded by violence and grew up in a financially unstable household. Jasmine, Richard's mother, worried for him, especially as a young African-American male. In Oakland, African-American boys accounted for nearly 75 percent of all juvenile arrests. Jasmine feared that her son would end up like the others; all she could do was pray, pray that he would graduate high school, go to college and that he stay away from the crime and gang violence that awaited young African-American males. Richard was a humorous boy. He was always telling jokes and making other people laugh. Even though Richard was a troublemaker, he was loyal and loving to his friends and family. He was a good kid who made a terrible mistake, one that almost took away his future. 
You might wonder how Richard and Sasha came upon one another. Despite their differences, they had one thing in common, the 57 bus; both Sasha and Richard rode the 57 bus on their way home from school and this is where, on November 4th, 2013, an event took place that changed the teens' lives forever. This story will demand your attention and enlighten you about the importance of both social justice and forgiveness. 
-Melenie Ignacio
Every Falling Star – The True Story of How I Survived and Escaped North Korea by Sungju Lee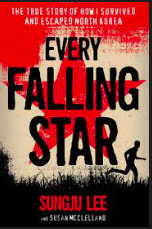 Every Falling Star by Sungju Lee and Susan McClelland is eye-opening and heartfelt. Sungju Lee is a twelve-year-old boy who, due to circumstances beyond his control,  is set to live on the streets in North Korea. He has to adjust from living in a prestigious area to a life of poverty. Sungju has to fend for himself in the beginning but then he has to help his "brothers" survive too. He goes through heartbreak, betrayal, and distressing events as he tries to escape from North Korea. 
What makes this heartfelt is that this is an autobiography true to Sunju's real life. It is hard to imagine living through what he did. This story shows how strong Sunju was and how he was able to cope with the seemingly insurmountable challenges that came his way along his journey to freedom.
-Dakota Tavares Varios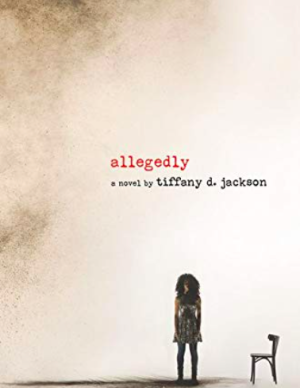 Allegedly by Tiffiny Jackson
You hear sirens. You are nine years old and something bad has happened but all you remember is watching her. A man starts to ask you questions and you realize life is changing very quickly. It has been seven years since the accident that changed your life. "I don't like talking about my past, people start looking at me differently. I never really cared but then I got a second chance to live. I found a reason to get the life that was ripped away from me. Maybe they should look at me as if I'm crazy. I am a baby murderer, after all, allegedly that is." 
Is Mary guilty or was she falsely accursed for all those years? You'll have to read to find out. This is a great book that will keep you on your toes all night long, bring tears, and maybe even rage. The story follows Mary's journey into her past and explores what will happen in her future. Will the truth come out? Will she get justice? These are questions that will play through your mind as you binge read through the night. It is a book you won't be able to put down, which makes Allegedly by Tiffany D. Jackson, the perfect summer read. 
-Elissa-Kaitlyn Gold
The Da Vinci Code by Dan Brown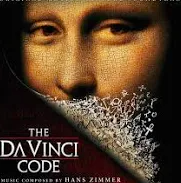 The Da Vinci Code is a novel by Dan Brown that was published on March 18, 2003. This is a thriller and crime and conspiracy fiction. The Da Vinci Code is a very intriguing and suspenseful book. The fictional story is led by a symbologist and Harvard University professor named Robert Langdon that was visiting Paris for lectures and who is accused of the murder of the beloved Louvre curator Jacques Saunière. 
Jacques Saunière has held a powerful world-changing secret that he swore he would protect, but when he is murdered, who will carry on the secret and make sure it is not lost forever? He must think fast in the last minutes of his life and leave behind some kind of message to the only person in this world that will find and understand…
The granddaughter of Jacques Saunière named Sophie Neveu is a cryptographer for the French National Police (the equivalent of the FBI in the USA). She has to cope with the devastating news of her grandfather's death and also has a mystery to solve that his murder left behind.  One hidden message found at the murder scene of Sauniere says to find Robert Langdon. 
Find out what happens when Robert and Sophie are unexpectedly tied together to solve not only the truth behind Jacques Saunière's death but also the truth behind Sophie's family and a secret organization that holds confidential information about how her family's connections could impact the world.
-Kaylee Hi'ilani Rodrigues-Vincent