Dragons Defensive Lineman is Girl Boss Trinity Tavares
This is the story of Trinity Tavares, a senior at Honoka'a High School and the only woman on the football team.
For the last several decades the number of women who play high school sports has risen dramatically and many or these are serious athletes.   In fact Since 1972, sporting opportunities for college women have increased by 45% and in high school sports, by 99%. Most high schools have girls soccer, girls  basketball and softball teams, but one sport has remained largely unattainable for women and girls; football. Football requires muscle, bulk and strength. It is largely viewed  as being too rough and dangerous for women to participate in so it is rare to see a woman play on a men's football team. This is where we have bragging rights; Honoka'a High Dragons can say we are one of the rare high school teams that has a woman player on our football team. Her name is Trinity Tavares and her position is defensive line. We wanted to know more about Trinity Tavares so the Dragon Post invited her and her "crew" in for an interview.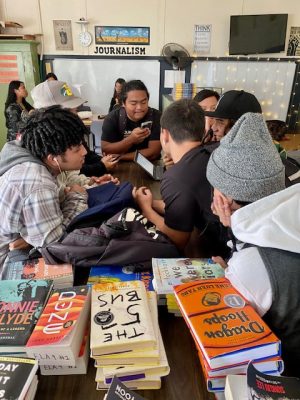 DP: "When did your interest in football begin?"
Trinity: "I became interested  when my cousin wanted me to play in my junior year of high school."
DP: "Did you always play sports?"
Trinity: "Yeah, I played rugby and soccer most of my life."
DP: "What position do you play in football?"
Trinity: "I'm a defensive lineman."
DP: "How do your teammates treat you?"
Trinity: "Like they're scared of me sometimes." (laughs)
DP: "Why do you say that?"
Trinity: "Because being the only girl on the team, I had to kind of put on a front."
DP: "How long have you been playing football?
Trinity: "I played football my last two years – my junior and senior years here at Honoka'a High."
DP: "Would you mind telling us about the Powderpuff Homecoming incident."
Trinity:  "Ha! Oh yeah -They almost didn't let me play powderpuff. I'm not a boy, but technically, the football team doesn't play on the powderpuff , they coach. It's the girls turn to play football, but technically, yeah I'm a female. They let me coach and play, which kinda worked out for me."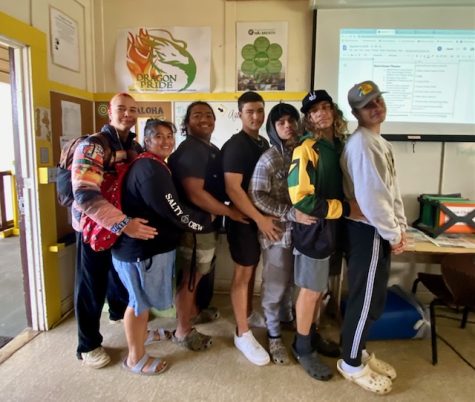 DP: "What happened at powderpuff?"
Trinity: "The time where I rocked her? I rocked her into next year!"
DP: "How do you feel about being the only female football player on the team?"
Trinity: "I like it honestly, I feel like I got a lot more respect than I was expecting because I was a girl who put myself out there."
DP: "What unique challenges as a woman do you face on the football team?"
Trinity: "I have female anatomy and that s*!@ hurts with my pads. Like, I think every week I'd have to bandage up my breasts because I got bruises. It would pinch and it would cut and . . . yeah.
DP: "Let's have your team mates weigh in: Kupa'a, how would you describe Trinity on the team?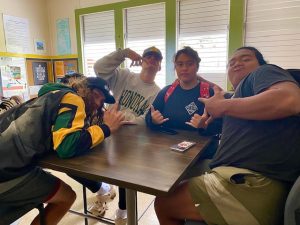 Kupa'a: "Hmm . . .words to describe Trin? I'd say, sometimes scary, most times life of the party."
Ke'ua (Uzi): "She's respectful. She's family."
Bruce: "She's a really good person, she loves her boys.
Who says girls can't bring it to the football field – Trinity, you go girl!