College Fair Inspires Students to Dream Big
The College Fair, held on March 30th in the HHIS Gym, featured over 60 national and international colleges and universities. There were colleges from far-flung places like Melbourne, Australia, and Manchester, England.  WUE schools (that offer deep savings on out-of-state tuition) like the University of Oregon and CalPoly Humboldt were there too, alongside local schools UH Manoa, UH Hilo, and Brigham Young on Oahu, to name a few.  It was a super exciting event that informed and inspired students.   Here's what some of the students had to say:
"The college fair was amazing. The diversity of the colleges and their programs was incredible. I'm glad we had the opportunity to learn about them."
– Kaylee R . Grade 10
"I like the University of Colorado, Boulder. It has a beautiful campus, in the mountains, a really cool library, and lots of opportunities."  -Amy A. Grade 9
"Before the fair, I was set on California, but now I realize it shouldn't matter where you go, what matters is the opportunities you get. Now I'm thinking about going to Utah Valley University – I would have more opportunities there."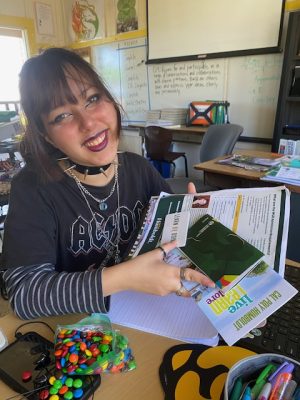 -Dakota T. Grade 10
"Currently I'm doing a deep dive into many of the colleges at the fair to learn more about each one and decide which ones interest me the most. I was up until 1:30 last night just reading all the brochures!"
-Maka A. Grade 10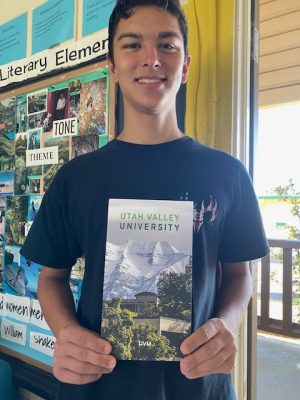 "I am thinking about going to UVU (Utah Valley University) because they ranked third in the nation for Aviation and I love how the campus looks."
Austin M. Grade 10
"The college fair was a great experience! I really enjoyed having the opportunity to explore many colleges on our own campus. I enjoyed having the flyers that gave more info too."
-Vanessa C. Grade 10
"I loved how every college had a different type of specialty program."
– Nico P. Grade 10
"I found this university called Utah Valley University. It piqued my curiosity because they have great programs, such as business, economics, engineering, and many more. They have their own airport where you can train to get a pilot's license Depending on your GPA and SAT scores you get great financial aid."
-Nathaniel C. Grade 10
I think the college fair was a great opportunity for us, students, especially since we don't usually have events like these. The people at the booths were very engaged with the kids and I personally enjoyed learning more about the colleges I was interested in."
-Melenie I. Grade 10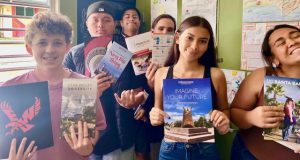 "I'm interested in going to Hawaii Pacific University to become a marine biologist; they have a program for it."
-Zachary H. Grade 9
"It was very inspiring." – Isabella R. Grade 9
The Dragon Post would like to than
k Mrs. Haitsuka-Fernandez and the teachers and staff for making it happen right here on our campus!