Dragon Ladies Go to States
Honoka'a Girls Softball is having a phenomenal season. They finished the regular season with a record of 6-3. The style of games for playoffs are best out of 3. Their playoff games were against Kohala. The first game they played, they won 5-4, the second game they lost 9-3, and finally won the first set with a score of 6-5. With the win against Kohala, the girls earned a place in the State Tournament on Oahu from May 2-5. The win also means they will be playing against Kamehameha for the BIIF Division 2 Championship Title. With games of 3, the first game will begin on April 27 and 28th.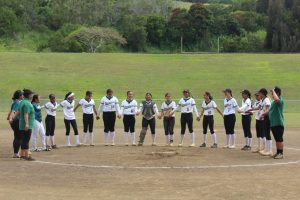 Our Honoka'a Dragons traveled to O'ahu to battle for the State Championship. They got the win against Waialua High with the final score of 15-13. The next day, they played against Nanakuli with the final score of 14-3. The following day they played Kapaa but lost, 13-2. 
As center fielder Brandi Ho'opai put it, "We played 9 innings against Waialua and fought to the very end. The whole team wanted to win. It was very tiring but worth it in the end. For the other games we had no control over most of their points because of the home runs they hit."
"This season was very memorable because of how far our team came and what we accomplished," says left fielder and designated hitter, Danica Valera. "I grew a great bond with each and every one of my teammates that I will cherish forever.  I will never forget the memories that we made with the seniors and how they guided me through this year's season."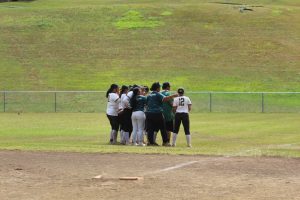 "This season with this group of ladies has been amazing," asserts Coach Kanekoa. "They've worked so hard from the beginning and never gave up. Many of these girls have been playing this sport since they were babies so they look and do things so comfortably on the field. They all come from different friend groups at school, but when they're on the field they're like sisters. One advantage our team has is that their bond is strong. It makes things easier as a coach on the field at practice and games. I'm honored to be on this journey with these ladies".