The Competition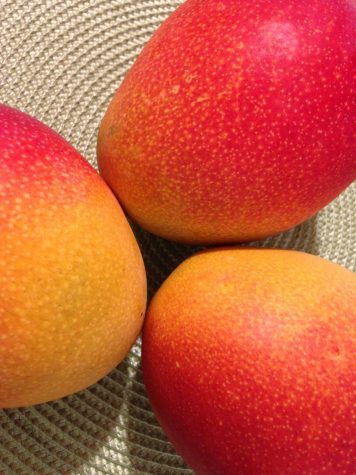 My dad turned down the music in the car and said, "Let's run through everything one more time on how to make your crab cakes." I went through all of the steps one last time with him before we made it to Victoria Park, Oahu. It was packed with people and full of white tents. After cutting my way through the booths and people in the blistering heat, I finally found the tent I would be competing at. 
I went to the back of the tent where the manager of the event was waiting for me and the other contestants. I was the first one to arrive so the manager gave me my paper chef's coat and left me to unpack my gear. I was about to pull all of my cooking supplies that I crammed into my cooler out, when my dad came around the corner and called me to the front.
The people who were going to be judging me and my abilities, were now sitting in front of me. I walked over to them and introduced myself, the first judge was Leeane Wong, the owner of coco butter cafe. Another  judge was Raphael Lunetta, a chef from Santa Monica. Nervously, I pulled out my phone and started talking about what I would be making for them and the story behind the dish. "The dish that I will be making for you guys today is a quinoa-crusted crab cake with a mango chutney." I began showing them some pictures on my phone and said, " The inspiration for this dish came from my love of fishing." I showed them some pictures of me catching what is known as Kona Crab here in Hawaii or spanner crabs.
I told them about how the crab I would be using was hand caught by me and everything I would be using in my dish was local. After I finished telling them about my dish, it was time to start cooking. I got my station ready with everything I would need and ran through the steps one last time in my head. Then, the competition began, but it wasn't what I was expecting, I wasn't nervous anymore and it felt like I was just cooking at home for some friends – only now,  I would  be competing against two other people. 
I put my pan on the stove and let it heat up, while it was heating I combined my crab cake mixture. I shaped the crabcakes and crusted them in flakey panko and quinoa. I then added my oil to the pan and let it heat for a bit, but in the meantime, I prepared my mango chutney. I added my diced mango, diced papaya, onion, and tomato. My oil was now hot so I put my crab cakes in the pan. I could smell the fresh crab and the golden-brown crust that was forming on the cakes. Once they were golden I took them out of the pan and tossed my salad. For the bed of this dish, I chose to make a watercress salad. My dad always told me you need to balance flavors in your cooking, and that's how I approached this dish. 
First, on the plate, the watercress salad is going to give you a peppery flavor and a little spice. Then the crab cakes are going to be savory and salty, but the sweet from the mango chutney will balance the dish, then garnished with micro cilantro on top for a fresh pop. But now, that apprehensiveness was back, because now it was time to present my dish to the judges. "Today what I have prepared for you is a quinoa-crusted crab cake on a watercress salad, topped with a mango chutney."
I walked over to my parents shaking inside, waiting for the results was the first time I felt like I had anxiety. After 10 minutes they finally had the results.
I've been working on my public speaking, cooking, and being under pressure for the last month and it was all leading to this. The judges announced the third place winner, then the second place winner. This was the moment I was waiting for, "Now we will announce first place;  in the first place is, Kamahao Kanekoa!" All I could do was smile, I worked for the past month to be where I was now. I was speechless, but I had to come up with words quickly because now I had to give a speech. 
I talked about how the whole competition had taught me the most I have ever learned about cooking, and how to handle the pressure. I thanked the judges, the other competitors but most of all my family. After the contest, getting into the car, my dad asked me, "What did you learn?"  "How to work under pressure.", I said. But looking back, the real thing I took away was to believe in your abilities and to trust the process.