Students Demonstrate Ingenuity and Resilience through Pandemic.
RESILIENCE
Overall, this year messed a lot of things up for a lot of people. But it is important to see the good things that came to us in 2020. Despite the challenges and chaos of the past year, I was presented with many new opportunities. I moved across the country, and I'm still trying to decide if that's good or not.
The good thing is, I got to experience a different part of life outside of anything I've ever known. I got to learn so many new things that I wouldn't have if this year never happened. If this year never happened, I would still be in Wisconsin living the same life. Getting to move to Honokaa was a once-in-a-lifetime opportunity, and I'm so grateful for it.
I'm also very happy that my mother got to move back to Hawaii, and is happier than ever. I'm thankful that my little brother gets to grow up in a place like this and learn more about Hawaii as he grows up. Although I miss my dad a lot, I'm glad he gets the time to expand his small business, and maybe even move out of Wisconsin himself.
This year, even if it kinda sucked, was a very memorable year. I got to have fun with my friends all summer before I moved, and that was amazing. I didn't realize how many good things came from this year until now, I didn't even think about the silver lining.
HHS Student, Guest Writer
INGENUITY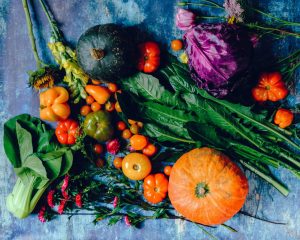 This year has been hard for most people, but for me, there was a silver lining. I got a chance to start a business and without the pandemic, this would have never happened. I started an online farmers market where you can buy local produce, meats, and more. 
It started when my dad got furloughed and we went to visit his main farmers for the hotel since they were their main business. I saw them tilling under their vegetables and others rotting on the vine. They had already filled up all of the food banks but it was more expensive to harvest the vegetables than to just let them rot. That night I decided I wanted to do something, with the help of my family we started our business. 
I started with a small market and said that I was going to make bags with proteins, fruits, vegetables, and more. I said I would start with 16 bags for our first week but after just an hour, we sold out. By the end of the week, I had orders for 80 bags. The next week we had over 200 orders and you could get more vegetables a la carte. We started with four farmers and today we are partnering with over 50 farmers, ranchers, fishermen, and other businesses. 
Now we are partnering with the iron man foundation,  the one that usually puts together the huge race, to give back to the community. With them, we're putting together 600 boxes once or twice a month and giving them out for free to the community. With them, my business was able to grow and now we also put together boxes for small businesses.
Other than all of that, there was also more good that came out of the rough. I got to meet some amazing people who came to work with me. I also got to go and work with other amazing chefs. Overall, last year has been rough but if you look for it, you can find the light in the dark.
Kamahao Kanekoa, Guest Writer