A Hidden History
Bessie Coleman, Ella Baker and Dr. Rebecca Lee Crumpler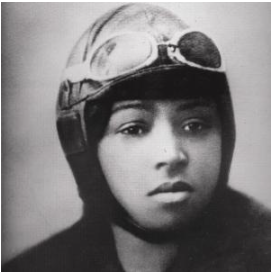 As school children we are all taught about Rosa Parks refusing to give up her seat on the bus and Martin Luther King Jr. having a dream for equality, but we aren't aware of the many people of color hidden in history, whom despite widespread bigotry and oppression, blazed trails and lived amazing lives. Last month, in Ms. Payne's and Ms. Gabriel's social studies classes, students focused on Black History in honor of Black History Month, which is in February. Each student had to choose a person hidden in history to research and to tell their story. It's mind boggling how many people made a powerful impact on society but who haven't been given the credit they deserve. Below are some of the stories that share their courageous  accomplishments.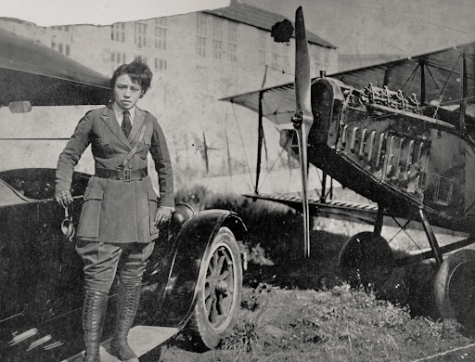 Bessie Coleman
Bessie Coleman was an American Civil Aviator and the very first Native and African American woman to have a pilot's license. She earned this license in June of 1921 at the Federation Aeronautique International. Bessie was born on January 26, 1892 in Atlanta Texas. She grew up with twelve brothers and sisters and spent her time helping her mother work to earn extra money. Her mother, Susan Coleman, was a maid and brought her children to Waxahachie Texas for a fresh start. 
At age eighteen, Bessie attended Colored Agricultural and Normal University which is now called Langston University. This was a huge step for Bessie since she needed to move to Langston Oklahoma. But her time at the university didn't last long since she couldn't afford the tuition. Bessie was only able to attend for one semester. 
At age twenty three, she moved in with her brother in Chicago. During this time, 1915, she attended Burnham School of Beauty Culture. This led her to securing a job as a manicurist in a local barbershop. Her remaining brothers went to the military and came home to share stories of French women having the opportunity to fly aircrafts. These stories inspired her to attend flight schools across the country. The only downside to this was no school would accept her because she was an African American woman. Luckily, Robert Abbot, a famous newspaper publisher, convinced Bessie to move to France to take the classes that could allow her to become a pilot.
While waiting for schools to accept her, Bessie took French classes. She was finally accepted into Caudron Brothers' School of Aviation. When she returned to the United States, she gave countless speeches at schools, theaters, and churches. She even showed videos of her doing "air tricks". These visits would help her earn extra money. In 1922, she performed the first ever public flight by an African American woman. She was known for doing loop-the loops and making the number eight. The word started to spread around which led her to become famous in not only the U.S but Europe as well. She toured the country and gave flight lessons and performances. 
Two years into her career, she survived her first airplane accident. This accident took place in February of 1923. Her aircraft stopped working mid-flight. Bessie suffered from a broken leg, a few cracked ribs, and cuts on her face. In 1925, Bessie was fully recovered and started to perform again. A little over a year later, April 30, 1926, Bessie took a test flight with William Wills. They were three-thousand feet in the air when a loose wrench got stuck in the aircraft's engine. Wills lost control and the plane flipped over. Bessie was in the passenger seat but she didn't have any seatbelt on and at the time planes didn't have any roofs. Neither of them survived the fall. Bessie Coleman died at the age of thirty-four. 
– Dakota Tavares-Varios
Ella Baker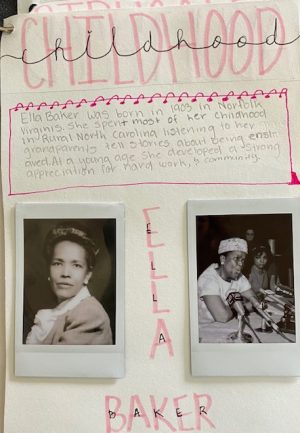 Ella Baker was born in 1903 n Norfolk Virginia. She spent most of her childhood in rural North Carolina listening to her grandparents tell stories about being enslaved. At a young age she developed a strong appreciation for hard work and community.  Ella faced discrimination throughout her childhood and was forced to flee her hometown because of race riots. Baker studied at Shaw University in North Carolina. As a student she challenged school policies that she thought were unfair. After graduating in 1927 as class valedictorian, she moved to New York City and became an activist. She joined the Young Negroes Cooperative League whose purpose was to develop black economic power. She also joined several women's organizations that were committed to the cause of economic justice for all. "I have always thought what is needed is the development of people who are interested, not in being leaders as much as in developing leadership in others." – Ella Baker
-Soljah Santos-Nac Nac
Dr. Rebecca Lee Crumpler
Being both a woman and African American pursuing a career in medicine in the 1800s was a big deal and with it came obstacles and a lot of perseverance. Now imagine being not just a woman and African American pursuing medicine in this time but also being the first one to do so. Imagine the shift in social norms. This article will talk about the story of the first African American woman to become a doctor.
Dr. Rebecca Lee Crumpler, born Rebecca Davis, was born in Christiana, Delaware on February 8, 1831. Her parents were Matilda Webber and Absolum Davis. Throughout her childhood, she lived with her aunt in Pennsylvania. There are no historical records on her parents or why she lived with her aunt instead of them. Rebecca's aunt cared for sick neighbors and Rebecca often assisted her (this is what inspired her to become a doctor later on). Besides this known fact about her aunt, there is no information on who her aunt was or even her name. 
"Having been reared by a kind aunt in Pennsylvania, whose usefulness with the sick was continually sought, I early conceived a liking for, and sought every opportunity to be in a position to relieve the sufferings of others." 
-Rebecca Lee Crumpler
It is estimated that sometime in the 1840's Rebecca attended West Newton English and Classical School. It is not recorded when she graduated from this school. Later, Rebecca Davis married Wyatt Lee on April 19, 1852, becoming Rebecca Lee. In 1860, she was accepted into New England Female Medical College. 
Being in the lower class and especially being subject to racism, she could not afford to pay for college tuition by herself, so she received a scholarship from the Wade Scholarship Fund that was created by Benjamin Wade, an abolitionist from Ohio. This scholarship fund was created to alleviate the under-representation of individuals of African descent in STEM. 
Rebecca took a 2 year leave from her studies at New England Female Medical College to attend to Wyatt who died in April of 1863 from tuberculosis. At age thirty-three, Dr. Lee graduated from New England Female Medical College in 1864, earning the degree, "Doctress of Medicine." She remarries in 1865 to an ex-fugitive slave who later served in the Union Army during the Civil War, Arthur Crumpler. They had one daughter named Lizzie Sinclair Crumpler. There is no historical record of her, but it is believed she died young. 
Dr. Lee Crumpler played a significant role in the aftermath of the Civil War. She moved to Richmond, Virginia to give medical care to the newly emancipated African American women, children, and men. She teamed up with many charities and missionary groups to do so. Due to racism, poverty, lack of resources, and lack of connections, these African American people did not have access to medical care outside of these charities and missionary groups. Many African American patients were encouraged to pursue medicine after the discrimination they experienced and Dr. Lee Crumpler was a figure that they found encouragement to pursue a career in medicine. It gave them a mindset of, "If she could do it, maybe I can as well." 
Dr. Crumpler's journey throughout her career was far from easy though. Being African American and a woman at this time, she faced a lot of racism and sexism from others including colleagues of hers. Sometime in the 1860's Dr. Lee Crumpler later moved to Beacon Hill, Boston, MA, and continued to practice medicine. She gave medical care to anyone who needed it, whether they could pay or not. Due to her race, Dr. Crumpler did not have any privileges of hospital resources, she had trouble getting access to prescriptions from pharmacists and was derided by doctors and administrators. In 1883, she wrote and published a book called A Book of Medical Discourses which is a collection of her medical notes (covering pregnancy, child and maternal health, teething, and nursing) and described her personal experiences of being a doctor. 
On March 9, 1895, in the small neighborhood of Hyde Park, Boston, MA, Dr. Rebecca Lee Crumpler died from Fibroid tumors. She was sixty-four years old when she died. She was buried in Fairview Cemetery, Hyde Park without a headstone. In 1910, her husband Arthur Crumpler died and he was buried right next to her without a headstone as well. A fundraising campaign was started in 2019 to give both of the Crumpler's headstones and in 2020 – precisely 125 years after Dr. Crumpler's death – headstones were finally put in. 
Dr. Crumpler's overall contribution to America was that she gave medical attention to thousands of African American patients post-civil war, inspired many African Americans (especially women) to pursue medicine, and was the first African American to publish a medical textbook. Her influence is still lasting to this day. One of the first African American women's medical communities named the Rebecca Lee Society was created in honor of her legacy and to support and encourage diverse groups of students pursuing pathways in medicine and health. March 30th was declared Dr. Rebecca Lee Crumpler Day. Where Dr. Crumpler lived, 67 Joy Street, Beacon Hill, Boston MA is now a stop on the Boston Women's Heritage Trail. The city of Boston honored Dr. Crumpler In 2021 and the Dean of the Boston University School of Medicine, Karen Antman made a speech saying, "I can't imagine how hard it was for a Black woman in medicine in the late 1800s," Antman says. "Even today our women, and particularly our Black women, are aware of discrimination in medicine. Dr. Crumpler was a remarkable woman; she was not only the nation's first Black woman physician but also the first Black author of a medical textbook. This week we will be highlighting the many accomplishments of Black women in medicine today, building on Dr. Crumpler's accomplishments." After a century, Dr. Rebecca Lee Crumpler has finally gotten the recognition she deserves and she will forever remain an important figure in American history. 
-Kaylee Hi'ilani Rodrigues-Vincent
References: 
 

National Women's Museum/Women's History
           https://www.womenshistory.org/education-resources/biographies/bessie-coleman